Component 1:  Provision of environmental sanitation and water supply services to priority low income areas of the GAMA (US$31.5 million).
Component 2: Improvement and expansion of the water distribution network in the GAMA (US$48.1 million)
Component 3: Planning, improvement and expansion of GAMA-wide environmental sanitation services (US$34.0 million).
Component 4: Institutional Strengthening (US$20.1 million).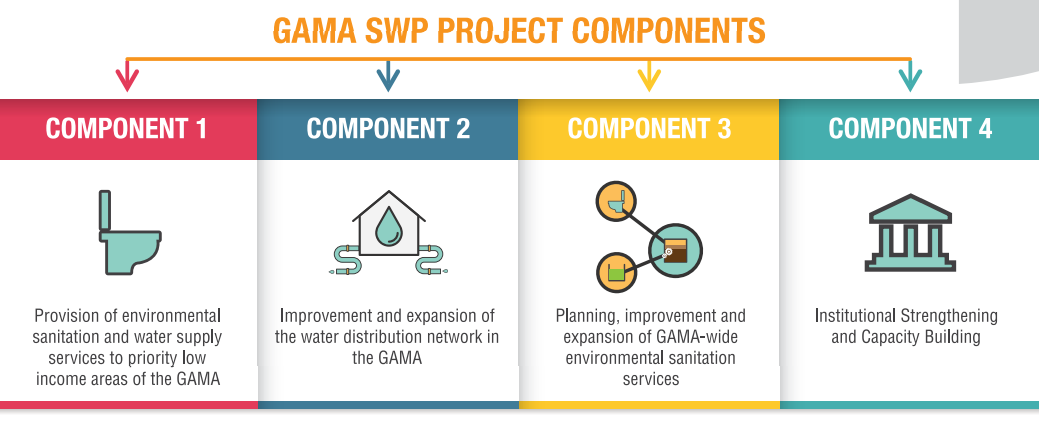 The project supported the GoG's efforts to increase access to improved water and supply and sanitation with emphasis on low-income communities in the GAMA. Further still, the project strengthened and improved planning, implementation and management of environmental sanitation. The GAMA project developed approaches to improve sanitation systematically across whole communities.
The Project helped to build the foundation towards a coordinated approach in the provision of sanitation and water supply services to Low-Income Urban Communities (LIUCs) and the development of environ mental master plans for the GAMA using existing institutions.
Technical Assistance (TA) was provided to Municipal, Metropolitan and national institutions, including the promotion of private sector initiatives, to ensure proper operation and maintenance. The Project is focused on priority Low Income Urban Communities (LIUCs) proposed by MMAs to benefit from gaining access to sanitation and water.
Output Based Aid funding was included to bridge the financial gap between demand and supply in LIUCs and to support good Operation and Management (O&M) of sanitation facilities by MMAs. TA for this activity was provided by GPOBA and funding for the actual implementation was made available.