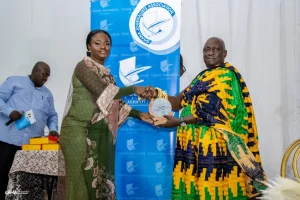 The Greater Accra and Kumasi Metropolitan Assemblies' Sanitation and Water Project(GAMA/GKMA) of the Ministry of Sanitation and Water Resources, has been honored by the Ashanti Regional branch of the Ghana Journalists Association at its Excellence Awards ceremony ,last Saturday. The project took a special award as the "most impactful 'Water, Sanitation and Hygiene'(WASH) Project", in the country.Nana Boakye Yam Ababio, Chief of Nkwantakese, who chaired the event, presented the award to Mrs. Charlotte Adjei-Marfo,Training Coordinator for the GAMA/GKMA at the Ministry of Sanitation and Water Resources. The GAMA/GKMA- SWP, is a Government of Ghana-led and World Bank sponsored project, targeting Low Income Urban Communities (LIUC) in the GAMA and currently expanded to the Greater Kumasi Metropolitan Area (GKMA).
It is aimed at increasing access to improved sanitation and water supply in low-income urban communities, as well as strengthen the management of environmental sanitation and water supply services in the country with current emphasis on the Greater Accra and Greater Kumasi Metropolitan Areas by the end of 2024.Project components include increasing access to sanitation services and supportimg the expansion of water distribution network.
It supports the improvement of sanitation services; and provides institutional strengthening and technical assistance to national and local government institutions.
In a citation, the GJA Ashanti mentioned some major project results as of June 2023 in Greater Accra and Kumasi:So far, 49,200 household toilets constructed benefiting more than 393,000 people in Greater Accra and Greater Kumasi
Also, 437 institutional toilets benefiting more than 419,537 people in Greater Accra and Greater Kumasi and two simplified sewerage systems to benefit more than 48,000 households.
It is recalled the Minister, in November 19,2021,launched the GKMA-SWP project as part of government's determination to providing pragmatic measures to find a lasting solution to the water and sanitation problems in the country.
The World Bank funded project is expected to construct 30,000 household toilet facilities in the GKMA before the close of the project in December 2024, with the bio-digester toilet system being the main containment technology.
After a successful project implementation at the end of 2020, the Ministry of Sanitation and Water Resources, with financing and technical support from the World Bank, agreed to extend the project to Greater Kumasi until the end of 2024.
In Kumasi, the project is being implemented in eight Metropolitan and Municipal Assemblies(MMAs)- Asokwa, Oforikrom, old Tafo, Suame, Kwadaso, Asokore Mampong Municipal Assembly, Kumasi Metropolitan Assembly (KMA) and Ejisu Municipality.