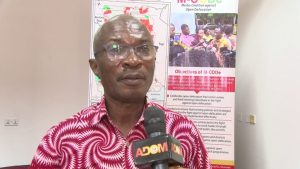 Media Coalition calls for expansion in GAMA project.
The Media Coalition Against Open Defecation (M-CODe) has called on the government and development partners to extend the Greater Accra Metropolitan Area (GAMA) Sanitation and Water Project (GAMA SWP) to other parts of the country.
The M-CODe National Convenor, Francis Ameyibor, emphasised the need for expansion during a press conference held in Accra.
He urged the GAMA SWP to extend its reach by adopting at least one Metropolitan or Municipal area in each region, particularly in low-income communities to increase access to improved sanitation and water supply.
This call for expansion comes after extensive engagement with M-CODe regional stakeholders across the nation, who strongly support the idea of extending and expanding the GAMA project.
Mr Ameyibor appealed to both the government and the World Bank to consider this plea.
Speaking about the M-CODe Empowerment Summit, he explained that it was an integral part of the "M-CODe 2023 Anti-Open Defecation Nationwide Advocacy efforts supported by World Vision Ghana.
The summit aims to build alliances with strategic stakeholders, including the Regional Coordinating Council, Environmental Health Department, Ghana Education Service, Ghana Health Service, Community Water and Sanitation Agency, and the Department of Community Development.
Other stakeholders involved in this campaign against open defecation include the Department of Gender, the National Commission for Civic Education, Regional Environmental Officers, the Environmental Protection Agency, World Vision, and various civil society organisations.
Additionally, Regional Officers from the Environmental Protection Agency, the Ministry of Sanitation, and the Ministry of Local Government and Rural Development are working tirelessly to revitalise activism and transform society into one free from open defecation.
As part of the national effort to eradicate open defecation, Mr Ameyibor underscored the importance of empowerment through capacity building, connecting key players in the battle against open defecation, and creating a platform to address communities still practicing open defecation.
The World Vision Ghana Water, Sanitation, and Hygiene (WASH) Technical Specialist, Yaw Attah Arhin, stressed the urgency of collaboration among stakeholders to achieve the goal of ending open defecation by 2030.
Despite recent political and public interest, progress in this regard has been disappointingly slow. He called on the Ministry of Sanitation to continue providing leadership and strategic direction for implementing the roadmap to end open defecation in Ghana.
Mr Arhin also lamented the tragic fact that preventable diseases like diarrhoea, cholera, and typhoid claim the lives of children every year due to the lack of basic sanitation facilities and proper hygiene practices.
World Vision Ghana Water, Sanitation, and Hygiene (WASH) Technical Specialist, Yaw Attah Arhin Other speakers at the event included Emmanuel Addai, GAMA Knowledge Management Expert, and Wisdom Aditsey, Tema Metropolitan Health Officer.
This collective effort by M-CODe and its partners underscores the importance of addressing the critical issue of open defecation and access to clean water, not only in the Greater Accra Metropolitan Area but also throughout Ghana.
The hope is that these advocacy efforts will contribute to the global goal of eliminating open defecation by 2030, improving the overall health and well-being of Ghana's citizens.
Source: https://www.adomonline.com/media-coalition-calls-for…/
#valuingtoilets #gkma #toilet #affordabletoilet #ownatoilet